Why do many Vietnamese women have long hair?
Why do many Vietnamese women have long hair?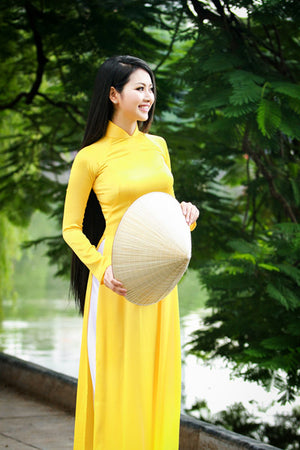 Why do many Vietnamese women have long hair?
Have you ever thought that Vietnamese women need long hair
 for more money when they sell it? In fact, that is not the reason which makes Vietnamese women want to let their hair so long even now long hair with "Áo dài" now become the symbol of Vietnam.  
Do Vietnamese men like Vietnamese women with long hair more?
Long time ago almost all Vietnamese women had long hair with natural color (black or dark brown) and texture (straight or wavy/curly). Since a  girl baby, her parents have liked long hair, not cut more (maybe cut a little). There are many fathers who only want their daughters to have long hair and consider it as an obvious thing, no one is allowed to cut it shorter without permission from them.
There are no little men in Vietnam like their wives or girlfriends to have long hair. Many people said that they feel their women look more lovely and beautiful with long hair in their eyes.
Do Vietnamese women like long hair?
It is the fact that many women like to have long hair. Maybe the nice image of long hair makes a deep impression on them. It is traditional beauty and traditional style.
Sometimes with some women, they try to have long hair because their husbands or boyfriends like it although they don't like it so much. Traditional Vietnamese women always have difficulty for them and they can do anything because of their husband and children.
With some ethnic women (Vietnam has 54 ethnic groups) they rarely have short hair, only have long hair or very long hair. They often take the bun on the top and that is their custom.
How is the situation now?
In the industrial and modern society now, many women from rural or mountainous areas come to cities to work and study so they change their hair style with shorter or dyed one. But many Vietnamese women still like long hair and the fact that many men still love women owning long hair too.
That is the reason why today there are still very beautiful Vietnamese Long Hair and we can see some girls with long hair on the streets of Vietnam.
Written by Vuyhair.com