WHAT IS THE PRICE OF SINGLE DONOR HAIR?
WHAT IS THE PRICE OF SINGLE DONOR HAIR?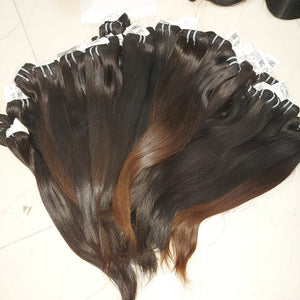 Single donor hair is the hair with 1 bundle from 1 donor, no mixing of any donor so the weight of each bundle is not same but the quality of each bundle is same, customers can color it so well, no mixing color after making.
How much is single donor hair?
The price of
single donor hair
depends on these characteristics: The hair is donor 50 or donor 80, the hair is in how many inches, how many bundles you buy (in wholesale or retail).
1. The price of donor 50 and donor 80
Donor 50 is the normal double hair and donor 80 is very double hair. With a single donor we don't call supper double or single drawn because the hair is not very thin tip and not supper double tip as mixed donors but we will choose bundles for donor 80 which is the fullest bundles and for donor 50 which is normal full bundles. 
One more thing of difference from donor 50 and donor 80 is that donor 80 is often silkier and softer than donor 50. So if customers want baby thin hair, they can choose
single donor hair
from donor 80.
Donor 80 is a higher price than donor 50 and also depends on lengths (not the same price difference between donor 50 and donor 80). For example, (donor 50 for 6 inches it is $20.9/bundle and with donor 80 it is $22.9/bundle but with 20 inches donor 50 is $68.9 and donor 80 is $85.9....
2. Longer hair - higher price
Single donor hair
is also like other kinds of hair, when the hair is longer the price will be higher. For example, 12 inches for donor 80, it is $45.9/bundle, 18 inches ($68.9/bundle), 22 inches ($109.9/bundle)... Longer length will be more expensive than shorter one.
3. Bigger order - Cheaper price
Not only single donor hair like this, with all kinds of hair, when you buy bigger order you will have more discount. From us, customers will have a wholesale price for order from 10 bundles. In comparison with retail orders, customers will have special discounts depending on quantity from 10 bundles.
If customers have any questions about
single donor hair
or want to get a full price list for this hair, contact our salesman to get more information about it or contact our hotline: +84 866 551 369.