Single Donor Hair with something maybe you are asking
Single Donor Hair with something maybe you are asking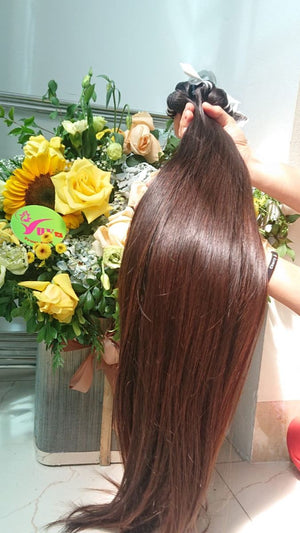 What do you think about the name "Single Donor Hair"? 
If Single donor is Single Drawn which has a thin end and much short hair inside? No it is not like that. Please read this writing to know more about Single Donor Hair from VUY Company.
Single Donor Hair is the hair that is cut from the donor and let it like that to make a bundle, no mixing, no processing. Customers can order that as a bundle in natural color or make color, make style for it. With original style and color it is in 1b color and natural straight or wavy texture.
How about weight from Single Donor Hair?
A special characteristic from Single Donor Hair is that it is not the same weight in each bundle. Single Donor Hair bundles are made from each bundle while bundles do not have the same weight so after making bundles, the bundles also are not the same weight. It is often from 93grams to 100grams for each bundle. However, total weight still can be controlled when choosing different bundles for 1 order.
Single Donor Hair can be made into 613?
Yes, that is original hair and no mixing so customers can bleach it into 613 and the hair appears the same after making color.
What do customers do when they want to make many styles from single donor hair?
Single Donor Hair still can be made into many styles with steam. For example with water wavy, loose wavy, body wavy, loose curly, kinky loose...However, if the single donor hair is not made by steam it will be more silky and softer.
What is the natural color for Single Donor Hair?
In fact, natural color hair for single donor hair only 1b color but sometime people dyed hair into color brown and let it so long on the head then it become natural color on the head and customers still make color with it so with single donor hair we say that we have 2 natural colors: black with quite dark brown (1b) and brown color (dark brown and light brown).
What is the difference between Single Donor Hair and Raw Hair?
Single Donor Hair is more silky and softer than raw hair because single donor hair is often chosen from the best quality to collect. That hair is the most expensive so we want to give quality hair equivalent to the price customers pay.
Single Donor Hair is Baby Thin Hair?
Almost Single Donor Hair in Straight we are selling is baby thin hair which is very silky and soft so customers not should make bone straight with it but sometime still have not very silky bundles, specially with wavy hair so when customers order, if they want very silky hair, you can note it for us.
What length for Single Donor Hair?
With Single Donor Hair we have from 6 inches to 40 inches and customers can choose any length they want
Single Donor Hair has supper double?
In fact, Single Donor Hair is not very full as normal hair with supper double but we distinguish double and supper double for single donor hair with donor bundle fuller or less full. With full bundles we sell it as supper double drawn, the rest with double drawn.
Single Donor Hair from which country?
Single donor hair we are selling mainly from Vietnam with the hair very silky and soft. Sometimes we also have Cambodian hair with coarser hair but it is not much. Customers want to order it, they must deposit or wait a long time for us to collect. After collecting we will choose them for customers.