Cambodian hair you can bleach it well?
Cambodian hair you can bleach it well?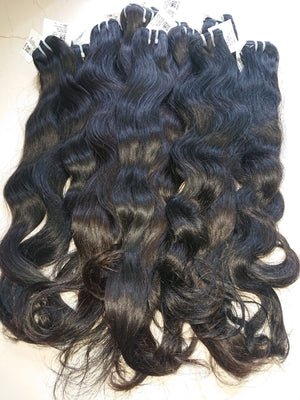 Yes you surely can because of these reasons:
We sell
Cambodian hair
from a single donor which we do not process any and with natural color. Natural color of
Cambodian hair
is 1B. If you see that brown which is dyed from donors before we cut it, when you bleach, it will appear a color not very light as with natural color 1B. 
1 bundle from 1 donor and we do not mix bundles with each other so you should bleach each bundle to have the lightest color.
We nearly only sell 1 style for
Cambodian hair
with natural wavy texture not straight or curly. Then customers can make more wavy or steam from the style we sell. 
However we have to notice that the
Cambodian hair
wavy we sell is quite coarse, it is not very soft as Vietnamese hair so when customers make steam for this hair, it will become more dry.
Like other hair,
Cambodian hair
also often need 3 bundles to make a full head and total weight. However because we sell single donor
Cambodian hair
so each bundle does not have the same weight. It may be 80grams, 90grams or over 90grams.
The most characteristic of
Cambodian hair
is that the hair is very strong. You can straighten it, you can make color well, you can process it and it will not be as weak as other hair because strands of hair are very big and thick so don't worry about the strength of the hair. This is a strong point of
Cambodian hair
.