Do you think that the 4", 6" are too short and seem like useless?
Do you think that the 4", 6" are too short and seem like useless?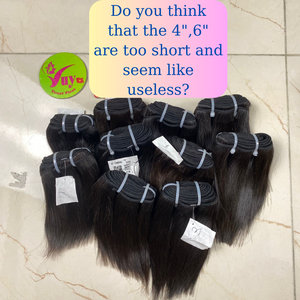 Actually, NO. Why should you buy it to save money? What can you do with a very short length like this?

1. You can use 4",6" to make a pixie cut wig.
A good stylist can make very nice pixie cuts with various styles, colors. You will look very young and dynamic with a pixie cut style.
Mostly the very short hair is cut from babies or very young people, so the hair texture is very nice, easy to change color or style. And the most important: these hairs are very very cheap. With just $7-$9/bundle, and just about 1.5 bundles + closure/frontal to have a wig.

Some of my customers are doing very good hair business with only short length: pixie cut wigs and bob wigs. They said that since the price is very cheap so very fast selling. And since the length is very short so very rarely issues with the hair like tangling or shedding. They do not need too much funds to buy hair too.
So you can see:
1. No need for too much funds
2. No issue with hair, very peace of mind
3. Very fast selling
4. Very easy to change color


2. You should buy 4"-6" for making bob wigs to save money.
You should use these very short lengths for the nape part of the bob wigs instead of using too long hair, coz you will have to cut it too.


For example: if you want to make a bob wig 8" with 200g and closure, instead of using 200g of 8" and closure to make wig, you should use 50g of 4", 50g of 6" and 100g of 8" (the longest length I suggest you to use double drawn or super double drawn to get nice and full wig). You will get an even nicer wig with a cheaper price.

So from now on do not think that 4"-6" are useless. It is very useful. You should use these hair for your business.